PowernApp - new iPhone app! (English)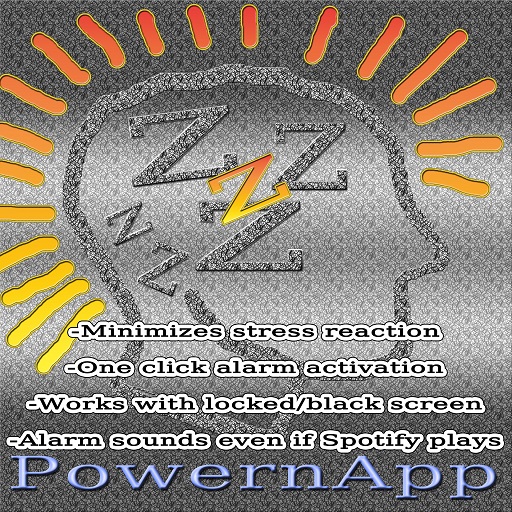 PowernApp - The app for the Power Nap
[Read this in Swedish instead]
Specially designed app for a convenient wake up. The Alarm app is specially designed for powernaps. Do you think the built-in alarm watch is troublesome and requires too many clicks everywhere to setup? Do you have difficulties finding an alarm that will wake you up smoothly, instead of stressing the body and mind? Would you rather have an app where you just activate the alarm with one click and just chill out? Need a Smart alarm clock for iPhone or iPad?
Now Momsens has launched the new iPhone app PowernApp (also available for Android) especially for those who know that a short nap (also called power nap, wink of sleep, zizz, snooze, siesta, catnap) during the day will make you much more effective than if you just keep running at maximum all day long without a break. This new power nap tool can be the best solution for you and your company to increase productivity in a very simple way!
The brain needs time to sort and store information. It's like a computer. When you have done many things on your computer the RAM gets cluttered with garbage that must be cleared. Otherwise, your computer will get slower and you will encounter more bugs and program hang-ups. You simply have to reboot the computer sometimes, that's also how the brain works. If you have put to much strain on the brain during a few hours it needs a re-boot. PowernApp is specially designed for this purpose - awesome! Some research suggests that the optimal nap is about 15 min, but this is of course individually. But it should preferably not be longer than 30 minutes, because if you enter deeper sleep than merely a nap it will instead make you more tired and tardy than before! Therefore, the PowernApp does not have a button for longer naps than 30 minutes. But for those of you that think you need a longer nap can enter, as an example, "120" min in the text field to recover for 2 hours. Sweeet.
Read more about sleep and how you can get better sleep here
The App is designed to work with Spotify
PowernApp has a clever programming that enables you to run relax-music in the background with the Spotify-app and then PowernApp will step in and take over when it's time to wake up.
After that it's just to hit play in the Spotify app again and continue listening to the music there where it stopped. The music in Spotify is just halted while PowernApp wakes you up. Just remember to let the PowernApp stay active in full screen mode and press the "Keep Spotify Playing" button (on iPhone) to turn it into yellow, then Spotify plays in the background. Start the music in Spotify first and then start the countdown in the PowernApp. Even when you iPhone or iPad locks the screen or fades out, PowernApp will still step in and take over from the music playing in Spotify and sound the alarm. When you pres the (home) button on your iPhone again after you are awake you only need to press play with one single click in Spotify to continue the music there again. Spotify will be the active window you see first even if PowernApp was active in full screen when you put the phone away. This enables you to play music from your iPhone on your stereo equipment and still here the alarm when the pizza is ready in the Owen or similar. Really neat Swedish design at its best.
Download and install PowernApp here
---
---

PowernApp on Google Play (for Android units)
The Android app was created with App Inventor.

PowernApp on App Store (for iOS iPhone/iPad units)
The iPhone app was created in Xcode and programmed in Objective-C.
Download the PowernApp melody
The song that is used as an alarm in the PowernApp-app, which is really awesome, is downloadable right here for free:
It is tested and mixed to be an optimal alarm for the wake up from a Power Nap. Usually alarm signals creates stress and releases cortisol in your bloodstream along with other stress hormones which will reduce the effectiveness of a nice nap. You feel distrait and the heart is pumping full throttle while releasing dangerous levels of adrenalin into your blood - but it's not a tiger you are waking up to encounter, it's just the afternoon meeting.. You simply don't feel as rested as you could while using traditional alarms. Today we know much more about how the brain works and how to adapt technology to better fit humans. By enabling people to wake up smoothly the PowernApp app will minimize the stress reaction and at the same time leave the person with a formidable energy injection which will make you much more alert and in a better mood compared to waking up with a retro Rrrrrrrring signal which will turn your spine inside out. Optimize your power naps with Momsens app and you will be boosted with energy during the rest of the day!
Let the brain rest with activity
It's not always you need to rest by sleeping. You can actually restore your brain with activity too. To enable this kind of rest you need to do something stimulating but which is significantly different from the task at hand. A good occupation to help the brain recover is by playing the game Memory (also called Concentration, Pelmanism, Shinkei-suijaku, Pexeso). 
You can play Concentration for free here
Help and info about PowernApp
Don't close the app! -It will continue the countdown even when the screen locks. The alarm will also work perfectly while the screen enters into locked mode.
Other apps usually require you to close the app completely for its internal background counter to work, but Momsens's app utilize a much smarter method for keeping the app active and awake even when the screen saver and screen lock enters into force. This usually results in the apps running cycle to be halted and the app will be sent by the iOS operating system to the background. But there is a way to avoid this from happening and that technique is used by Momsens's PowernApp. For those of you that are interested in programming and might be developing apps for iPhone I can give you a hint to make use of the "UIApplicationExitsOnSuspend" if you want to get the same functionality as in this app.
This is just one of several smart programming solutions which makes this app superior to other similar alarm-apps.
Please note: If you press (home) button on your iPhone (or swap to another app/internet browser) the alarm will not start and you will not hear any melody. Hence, start your PowernApp and let it remain active in full screen mode, then it will continue to be active even when the screen locks and the screen fades out. This is contrary to how most of the alarm-apps works for iPhone. This is a short-rest-app which is intended to be used for shorter durations of rest and awakenings. Since you are taking a power nap one can assume that you are not actively using your phone, or surfing websites or playing with apps. Thus, the smartest design for this type of app is to let it remain active in full screen mode, instead of making it cycle in the background. When you are done with your power nap simply terminate the app completely. Alarm-apps which are intended to be used for full night sleeping and long durations of inactivity on the phone are designed and programmed in a completely different manner which is not optimal for a power-nap-app.
Test - Listen to the wake-up melody.
Stop - Turns off the alarm and resets the countdown.
Start - Initiate countdown with the number of minutes you have entered into the input box at the top of the screen.
PowernApp - Textlogo which will take you to this info webpage about the app.
Click on Background - Changes between delicious background images.
Buttons 10, 15, 20 and 30 - Starts a countdown with the specified number of minutes - with a single click!
Keep Spotify Playing (iPhone workaround) - Will keep Spotify playing music in the background during countdown if button is pressed and yellow. If this button i green, then PowernApp will stop Spotify and commence the countdown in silence instead. On Android this is done automatically in the background without user intervention.
Just start the app and hit a number button and put down the phone and rest. This is what makes this power nap app so convenient.
The app handles both decimals and punctioations when entering numbers - You will be able to state the duration for the power nap with "," instead of "." if you prefer that. Enter, as an example, 0,5 or 0.5 and the app will start a countdown from 30 sec. If you are heating something in the micro, and you know you have a slightly bad working memory, you can enter 0.75 and the alarm will sound after 45 sec. Really practical app. I use it all the time myself, several times a day actually, since I created it.
PowernApp is programmed and designed by Fredrik Åkerström
Privacy policy for Momsen's apps
This document describes the privacy policy for apps developed by Fredrik Åkerström and supplied by momsens.se as tools for small business owners.
Read the privacy policy  for Momsens's apps in Swedish instead
Read the privacy policy in English
Feedback, comments, bugs?:
---
Andra inlägg
OBS!
Inga frågor besvaras längre i Facebooks plugin under artiklarna.
Använd detta kontaktformulär istället.